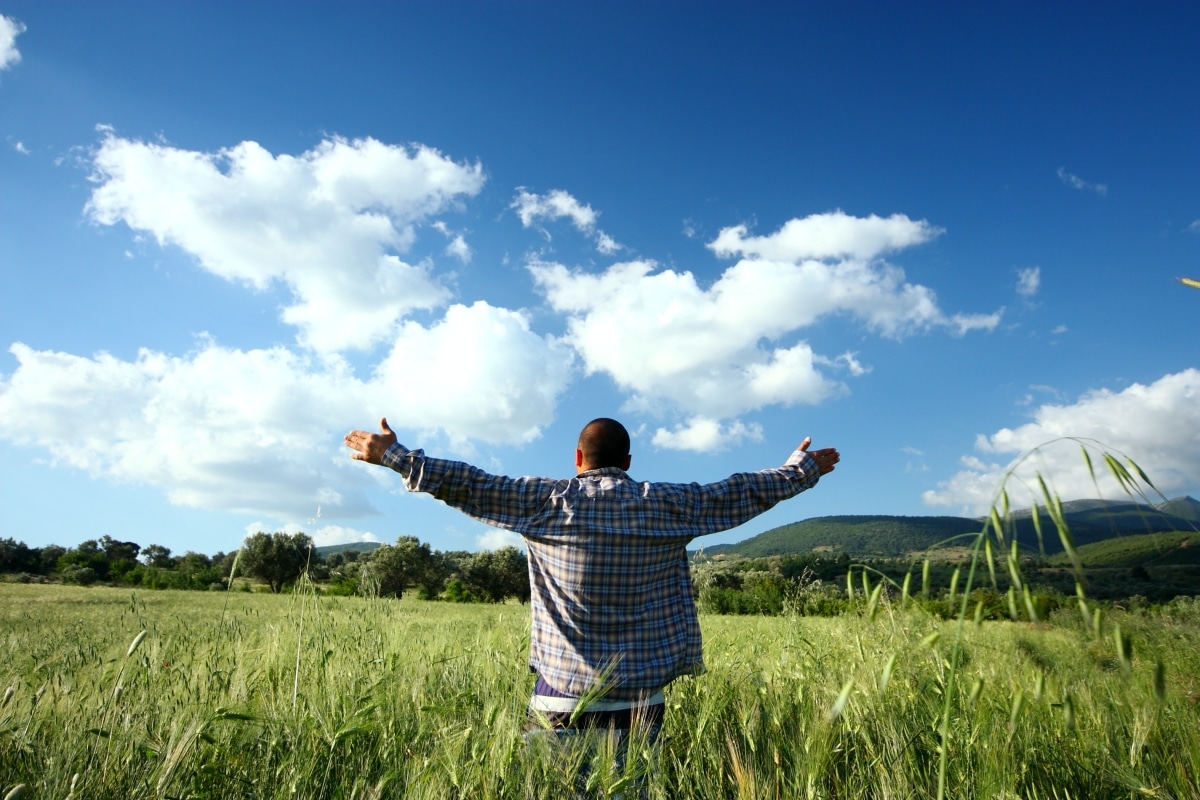 Sparrow Therapy System Helps Residents Recover From Opioid Addiction
"One of the reasons there's an opioid epidemic is that the withdrawal symptoms, the painful, excruciating detox process to get off opioids, is so bad that most people can't endure it." -Daniel Powell, Spark Biomedical CEO
The opioid crisis has affected an astonishing number of people. According to the US government's 2019 statistics, there were 10.1 million people who misused opioids in the year prior, with nearly 50,000 overdose deaths. That number has only increased in the last two years.
Because of the prevalence of these opioid crises and the need to reduce the negative effects of withdrawal while detoxing from opioids, Plum Creek Recovery Ranch has made a commitment to invest in cutting edge technology – The Sparrow Therapy System. This technology promises to reduce the post withdrawal symptoms of opioids. The Sparrow Therapy System is the only FDA approved, drug-free wearable technology on the market for relief from opioid withdrawal.
What are Opioids?
According to the Mayo Clinic, opioids are powerful prescribed painkillers that are meant to ease severe pain after surgery or injury. It's also used to treat pain related to medical conditions or when all other treatments fail to provide relief. If your doctor gives you a short-term prescription, less than 14 days, you should be able to stop these medications when you run out of pills.
Taking opioids for an extended period of time can generally run the risk of building up a tolerance to the drug and finding yourself needing a larger dose than prescribed to get the desired relief. Misuse, abuse, or addiction to opioids is a serious condition that can have dangerous consequences.
Medications that are considered to be opioids include:
Hydrocodone (Hysingla ER, Zohydro ER)
Hydrocodone-acetaminophen (Anexsia, Norco)
Fentanyl (Actiq, Duragesic, Fentora)
Oxycodone (OxyContin, Roxicodone, others)
Oxycodone-acetaminophen (Percocet, Roxicet, others)
Organic versus Synthetic Opioids
Organic or natural opioids are created from the extraction of opium from certain varieties of poppy plants. The synthetic opioids are substances that are developed in a laboratory. Though some synthetic opioids are for medical use only, they can also be manufactured and sold for street use. Fentanyl is one of the most dangerous of these street drugs because it's so much stronger than the prescribed medicinal opioids.
Taper Off from Taking an Opioid
Tapering off opioids when prescribed effectively should have very little chance of negative consequences. Contact your doctor or health professional for the best recommendation on how to slow down and eventually stop taking opioids. The goal is to taper off while addressing your medical needs while minimizing any health risks. Tapering is meant to lessen the withdrawal symptoms as you reduce your dependence on the opioid.
Opioid Withdrawal Signs and Symptoms
People who are dependent on opioid use can experience withdrawal symptoms that preclude them from wanting to stop taking opioids. As outlined in a recent article by Dr. Kevin A. Sevarino from Yale University School of Medicine, the symptoms can include drug craving, anxiety, restlessness, gastrointestinal distress, diaphoresis, and tachycardia. The withdrawal symptoms can create a vicious cycle of quitting and relapsing to relieve the systems. This effect can be discouraging to those who are physically and psychologically dependent on taking opioids but want to stop.
The fear of withdrawal from opioids is one of the barriers that over 11 million Americans who struggle with opioid addiction will face. Withdrawal is sometimes so painful that two out of five adults who would benefit from reduction therapy will not seek treatment.
How can you reduce the 800-pound gorilla of withdrawal syndrome?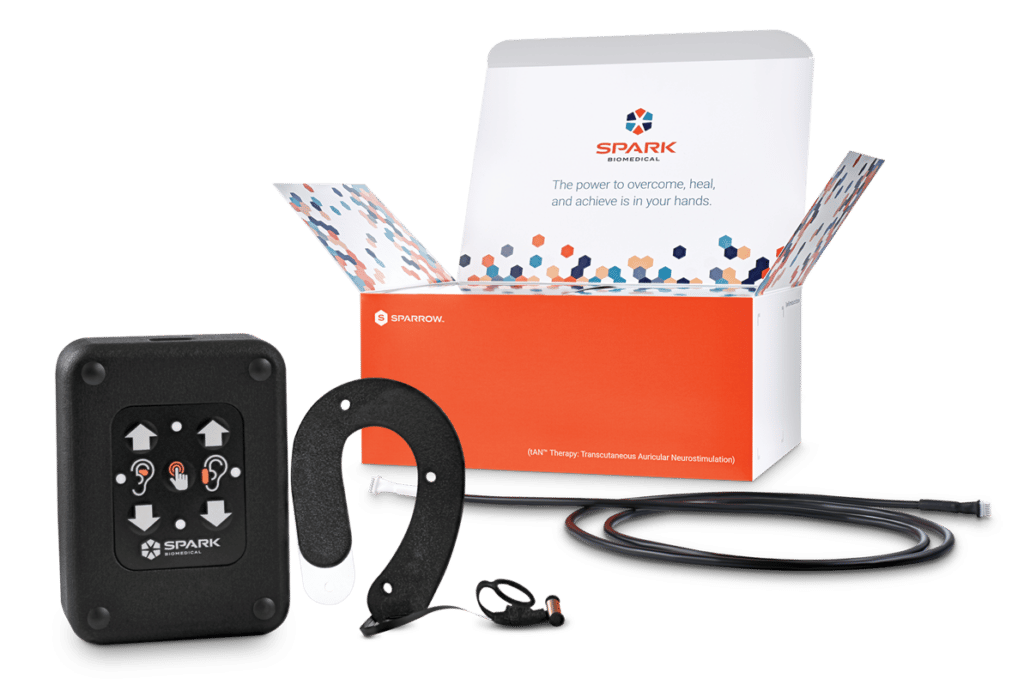 Introducing the Sparrow Therapy System from Spark Biomedical
A small, wearable device is helping patients survive the uncomfortable symptoms of opioid withdrawal. It's essentially an earpiece that sends mild electrical pulses to the brain to help alleviate the withdrawal symptoms that patients go through while they're detoxing.
In trials advertised on the Sparrow website, they posted the following encouraging data.
● 89% experienced mild or no withdrawal symptoms after 60 minutes of therapy
● By day two, 100% sustained a clinically meaningful reduction in opioid withdrawal symptoms
● 93% who completed detox accepted a referral to continue treatment
How does the Sparrow Therapy System work?
The brain can produce its own opioids, called endorphins. This technology is designed to release endorphins to fill opioid receptors in your brain using a series of mild electronic signals. The endorphins satisfy the opioid receptors which help to diminish symptoms. 
Why chose the Sparrow Therapy System to overcome opioid addiction?
Freedom to overcome withdrawal anytime, anywhere

Clinically proven to be effective in a relatively short period of time

Safe, non-invasive, drug-free treatment option with no systemic side effects

Simple, easy to use, quick activation
Are you ready to put control over relief to withdrawal symptoms in your hands?
The Sparrow Therapy System includes:
Daily Disposable Earpieces – The earpiece that delivers electrical stimulation to the nerves on and around the ear can be changed each day. (a mild adhesive is used to hold the earpiece in place)
Patient Controller – This hand-held device powers the earpiece and has all of the functional controls for adjusting the stimulation intensity to suit your personal comfort
Cable – The cable connects the earpiece to the controller and delivers the electrical impulses
Why has Plum Creek Recovery Ranch invested in the Sparrow Therapy System?
Plum Creek Recovery Ranch is excited to be using cutting edge technology to help our clients overcome the negative withdrawal symptoms associated with opioid use. The Sparrow Therapy System is non-invasive, drug-free, easy to use and FDA approved. At Plum Creek Recovery Ranch, we want to provide an easy, safe, and effective path forward to heal from opioid withdrawal while achieving a better quality of life, free from opioid dependence. Under the supervision of our Medical Director, Dr. Carlos Tirado, we can administer the wearable Sparrow device to personalize your opioid withdrawal relief.
"The Sparrow Therapy System is a real game changer. It puts the power to overcome, heal and achieve in the hands of the client. I am thrilled to be able to offer choices to our clients seeking help. Addiction is a disease of shame and fear. At Plum Creek Recovery Ranch we can offer relief."  -Patricia L. Ryding, Psy.D., Executive Director at Plum Creek Recovery Ranch
Addiction Treatment Facility near Austin, Texas
If you feel you are beyond help or support from a friend or family member, turn to the trusted professionals at Plum Creek Recovery Ranch. We can help you find the assistance you need to live a happier, healthier life.
At Plum Creek Recovery Ranch, we help individuals find connection, clarity, and hope.
Located just outside of Austin, Texas on 200 acres of working ranch land, Plum Creek Recovery Ranch offers a comprehensive, clinical program that addresses the whole person–body, mind, and spirit. For more information or for a confidential assessment with one of our licensed counselors, call (512) 398-3000.
Contact one of our caring Admissions Counselors for a free and confidential assessment.